Our History
Antiochian Orthodox Christian residents of the Paterson area held their first religious services in 1919, in the German Lutheran Church on Church Street and Broadway in Paterson. The Church, as we know it, was not officially charted until 1921. In that year, an old three-story school building was purchased at an auction by Mr. Nicholas Andalft, a devout member of the church. It was later converted into a church for the Antiochian Orthodox worshipers.
The first pastor of this church was Reverend Theodore Yanni. The church then numbered about fifty families. Between 1923 and 1947 the church experienced good growth through the effort of the priests who followed, along with the lay leadership. Some of those priests were Father Makarios Moore, Father Abdullah Khoury, Father Fareed Farkouh, Father Anthony Sakey and Father Moosa Khoury. On September 28, 1947, the church welcomed its new pastor, Father Michael G. Simon, who dedicated his life to its service for the next thirty four years.
It was during those years that St. George Antiochian Orthodox Church of Paterson, New Jersey welcomed the nationally known television program, "Lamp Unto My Feet" which was televised on April 16, 1961, bringing the Orthodox Pascha to America through the effort of Mr. A. Van Mitchell. The Church choir in this program was directed by Christine Lynch, as it has been since 1948. In 1970, three and one-half acres of land were purchased in Little Falls, New Jersey, as a new site for the church.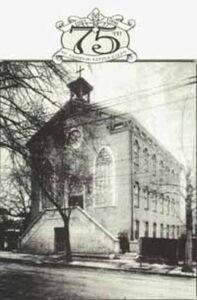 Mr. George Karram, a member of the parish council, spearheaded the building program, which broke ground on May 19, 1974. On September 21, 1975, Metropolitan Philip consecrated the New St. George Antiochian Orthodox Christian Church at a Divine Liturgy assisted by its pastor Father Simon, as well as Father Antoun Khoury, Father George R. George of Boston, Father George Coury of Greensburg, Father Paul Schneirla of St. Mary's, Brooklyn, Father Gregory Abboud of St. Nicholas Cathedral of Brooklyn, Father Michael Abraham of Glens Falls, Deacon Olof Scott, and Father Joseph Allen of Bergenfield.
The Father Michael Simon era was marked with growth on both the social and spiritual frontiers. He developed, among the members, a strong sense of family. The seeds he planted are bearing fruit today: the one-of-a-kind choir, the spirit of service, which does not grow old, and the undying will to overcome all obstacles. The church is as great as the talents of its clergy and laity. The history of this church is rich with both. The seed of which Fr. Michael Simon planted in the hearts of his faithful still bear fruit even today. Fr. Michael's humility, tenderness and his overwhelming love became a pattern for the times that followed. Fr. Michael Simon retired in 1981 and shortly after him came Father Malatius Husney, who was there for three years. Father Michael Abdelahad was an interim priest for one year
Then in August 1985, St. George of Little Falls received the Archpriest Elias Bitar. With Fr. Elias adding his amazing chanting to the choir's outstanding voices, St. George's parish was blessed with heavenly music at all liturgical services. Dubbed by Metropolitan Philip as the "Voice of the Archdiocese" (as described by Metropolitan Philip), he also weekly taught music to the seminarians of both St. Vladimir's St. Tikhon's seminaries. Thankfully with Father Elias Bitar's guidance and love, along with the unwavering dedication of St. George's families, the parish prospered throughout his ministry. After his twenty-seven years of ministry, the parish could boast over three hundred families and one-twenty Sunday School students.
In July 2012, a new era began at St. George's with Metropolitan Philip's assignment of Fr. Dimitri Darwich to be our new pastor upon Father Elias' retirement. As were most of his predecessors, Fr. Dimitri was born and raised in Syria and, therefore fluently spoke and chanted the services in both Arabic and English. He served our parish whole-heartedly and enthusiastically for eight years. He conducted a weekly Bible Study class, participated in the meetings for every organization, provided much assistance for new immigrants, and could often be found repairing or rebuilding items for the parish homer offices. Fr. Dimitri made it his mission to focus on outreach to our church community, as he frequently visited and administered sacraments to parishioners who were hospitalized or shut-ins or seeking spiritual solace from the trials in their lives.
During the difficult days of the pandemic, His Eminence Metropolitan Joseph asked Fr. Dimitri to return to Yonkers to once again pastor the parish of the Virgin Mary. He assigned Fr. Nicholas Belcher, who had been working in Englewood as his episcopal assistant, to serve as interim pastor until a permanent priest could be assigned. During a hierarchical visit to the parish in April of 2021, His Eminence announced that he would release Fr. Nicholas from his duties at the headquarters to be full-time pastor of our community. Fr. Nick has been widowed since his wife Sonia's untimely passing in 2008. They have one son, Andrew, who faithfully serves in the Altar, attends Sunday School, and discovered a love of the Dabke. We welcome Fr. Nick and Andrew Belcher to be an integral part of the long family history of St. George's Church and to lead our vibrant community into the next hundred years.